Nearly Human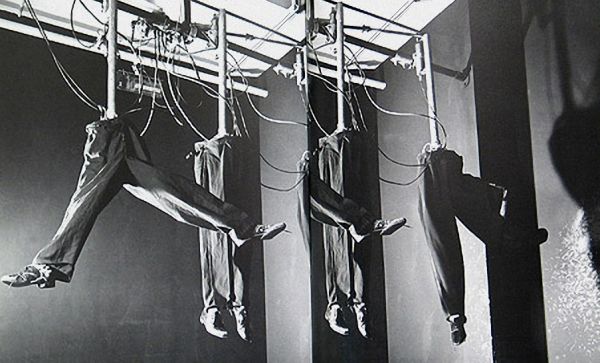 2015 / Arkiv /
The subject of this exhibition is human imagination and its thirst to create a parallel world of machines, puppets, dolls, automata, robots, which are nearly but not quite like us. Today, the population of these imaginary beings and machines occupies its own world in art, in fiction, in film, and in many aspects of our lives.
The exhibition involves some 70 participants and encompasses three sections. The first section, which represents the majority of the exhibits consists of printed images, which deal with the history of ideas that touch on things that are nearly human. They represent the background of our desire to make things that either look like, or function, as we do. The second section includes original works, which are shown as videos on screens. The artists are: Pierre Bastien, Daisuke Furuike, Theo Jansen, and Chico MacMurtrie. The third section includes six kinetic works. These are by Richard Kriesche, Tim Lewis, Jim Whiting, Christiaan Zwanikken and Bente Sommerfeldt-Colberg.
EXHIBITION OPENS SATURDAY 19. AT 13:00.
Presentations with the artists at 12:00
Jasia Reichardt, curator of the exhibition, is a writer on art and an exhibition organiser. She is interested in art that encroaches on other fields, be it science or literature and has spent many years following up the connections between art and technology. One of her books is about the history of robots, and her best know exhibition, Cybernetic Serendipity, which was about the computer and the arts, was presented at the ICA in London in 1968.
The exhibition is presented as a cooperation with Łaźnia CCA i Gdansk, Polen.
Nearly Human_ is part of the EU supported project "Promotion of Diversity in Culture and Arts within European Cultural Heritage", and also receives support from institutions in Iceland, Liechtenstein and Polen.
The exhibition at Kunsthall Grenland is supportet by the Arts Council of Norway.
Supported by a grant from Iceland, Liechtenstein and Norway through the EEA Grants and co-financed by the Polish funds